Jambiani Beach
Location: Southeast coast – 56 km from Stone Town
Access: Approximately 80 minutes by taxi or bus
Great for: Cultural immersion and budget travellers
Popular budget hotels: New Teddy's on the Beach, Seconda Stella, PiliPili Swahili Lodge
Best luxury hotels: Belvedere Resort, Blue Oyster Hotel, Uzuri Villa – Boutique Hotel
Jambiani Beach is nestled on the south-eastern coastline of Zanzibar, offering an idyllic yet rustic charm that appeals to those seeking a more authentic experience. Known for its extensive white sandy shores, turquoise waters, and a plethora of palm trees, Jambiani is the perfect getaway for relaxation and cultural immersion.
Unlike many of the northern beaches in Zanzibar, Jambiani offers a slower pace of life, making it an ideal spot for travelers who want to relax and absorb the local culture. The beach experiences significant tides, making it an ever-changing landscape that uncovers sandbars, tidal pools and local seaweed farms during low tide.
Location & Accessibility
Jambiani is situated about 59 kilometers from Stone Town and typically takes just over an hour to reach by car. While public transportation is an option, most travelers opt for taxis or rented cars for a more comfortable journey.
Natural Beauty
Jambiani Beach is a quintessential tropical paradise, with a lengthy 7km long stretch of powdery white sand fringed by coconut palms that starts just south of Paje beach and runs down to the southeast edge of the island. Low tide reveals the unique seaweed farms cultivated by local women and provides an opportunity to explore the shallow waters which are almost entirely without rocks and sea urchins.
Adventurous souls will find plenty to explore around Jambiani. Hiring a bicycle is a good option to get around and two caves, Kuza Cave with its swimming ponds and the archeologically important Kuumbi Cave to the south are both worth a visit. Further afield, the Jozani Forest with its red colobus monkey population is a must.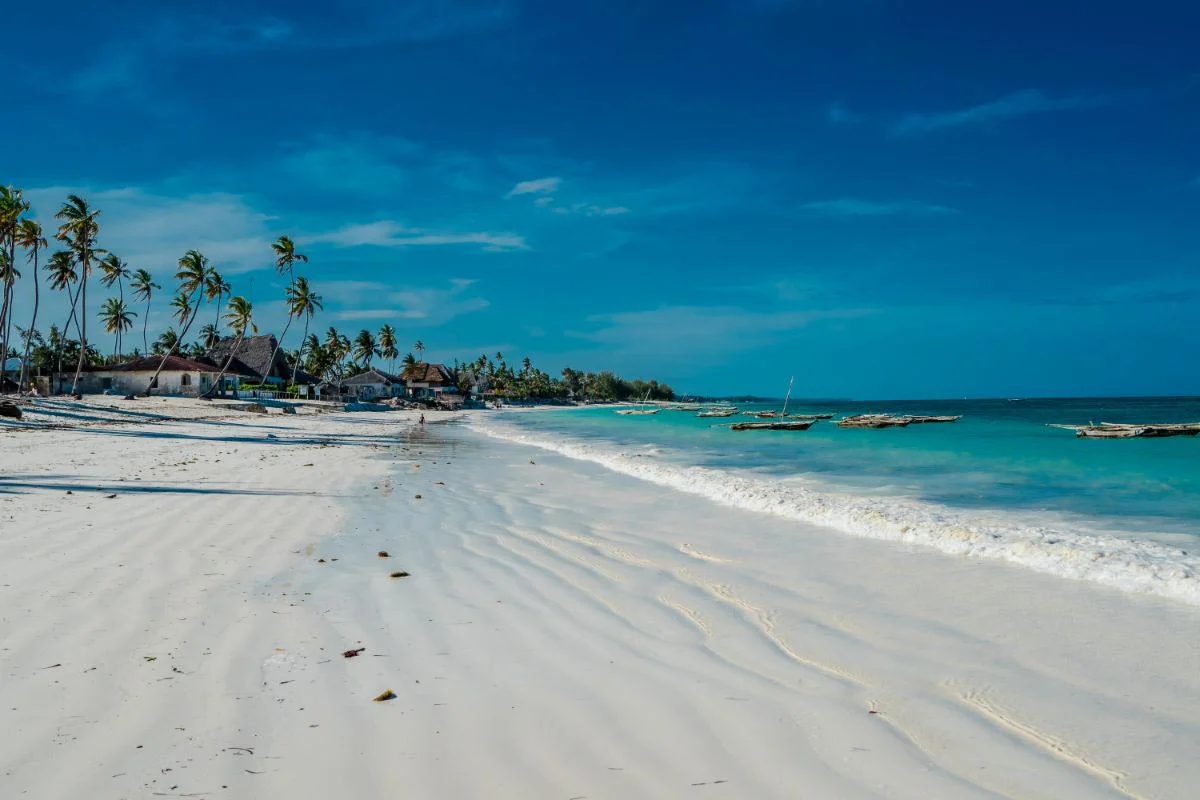 Water Sports & Activities
Although more relaxed than other beaches, Jambiani is not certainly not devoid of activities. The beach is a favorite spot for wind surfing and kite surfing, although the younger surfing crowd usually tends to prefer nearby Paje Beach. Snorkeling is another popular activity, and the nearby reef provides excellent opportunities to explore Zanzibar's underwater world. Keep in mind that Jambiani is quite tidal and getting to and into the water during low tide can be somewhat tricky.
Dhow sailing trips and fishing expeditions can also be organized locally while scuba enthusiasts will find local companies which can take you to a number of lovely dive sites. The 'Woo South' site is just off the coast and offers both shallow and deep dive options with lively coral heads and if you are lucky a fleeting glimpse of a barracuda, giant kingfish or even a shark!
Accommodation
Accommodation options in Jambiani range from quaint guesthouses to more upscale boutique resorts. Most of these places offer the basic comforts you'd expect like Wi-Fi and air-conditioning, while also focusing on sustainability and community involvement. Some also offer wellness facilities like yoga pavilions and spas. Jambiani has certainly seen an increase in 4 and 5 star establishments over the last decade or so but budget accommodation is still plentiful if you look. Current popular Jambiani hotels include the 5 star Alma Boutique Hotel, the 4 star Belvedere Resort and the 3 star Blue Oyster Hotel and PiliPili Swahili Lodge. New hotels are opening constantly and existing hotels change management and staff, we recommend always checking the most recent reviews to choose the perfect hotel for your holiday.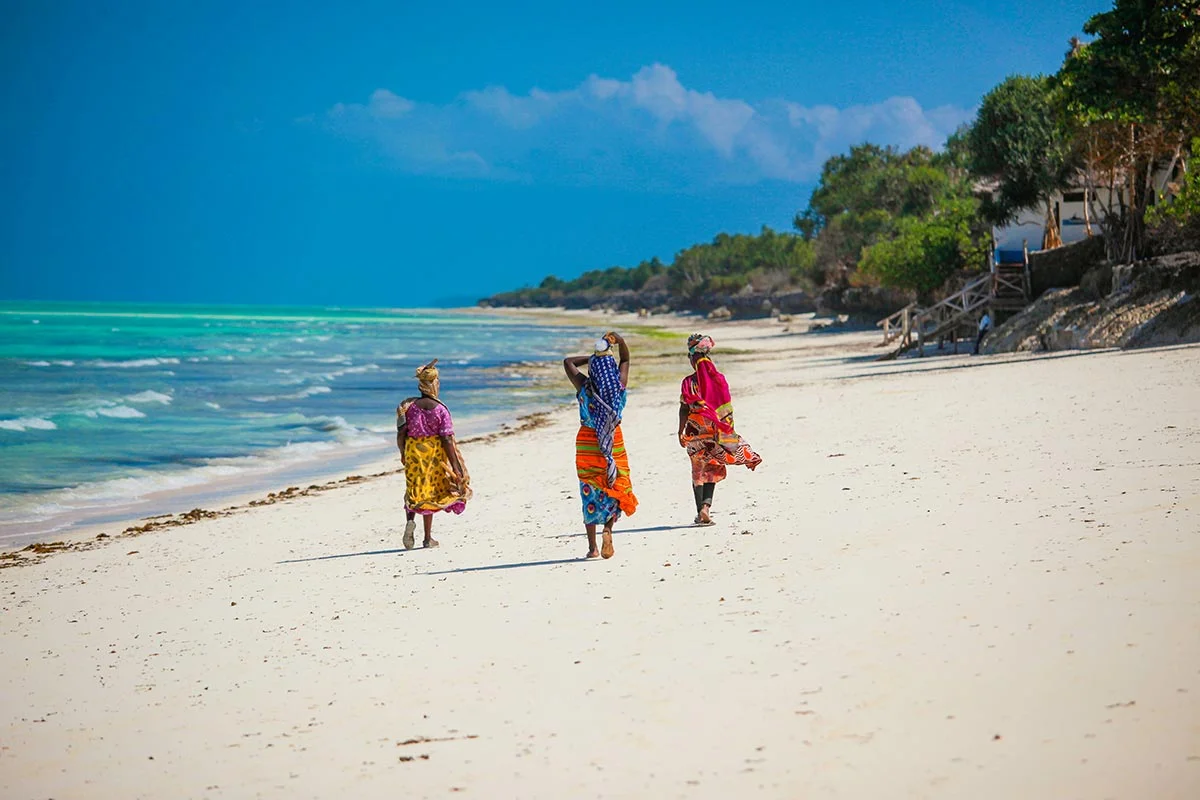 Restaurants and Nightlife
The food scene in Jambiani is primarily local, offering an authentic taste of Zanzibari cuisine. From grilled fish and coconut curries to tropical fruits, the flavors are fresh and vibrant. A highlight is NŌBĪS by Casa Paradis, a newer entry offering a fusion of Mediterranean and Persian tastes with a local twist. Pizza enthusiasts should head to the north end of Jambiani to try the Neopolitan pizzas at Geo Restaurant & Pizzeria. Nightlife is more subdued than in other parts of Zanzibar with a few bars and small beach parties that capture the more laid-back vibe.
Cultural Experience
Jambiani offers an intimate look at traditional Zanzibari life. From the seaweed farms that are tended mostly by women to the fishermen who head out each day in their traditional dhows, there are numerous opportunities to gain insights into the local culture. Some resorts and local businesses even offer cooking classes and cultural tours to further enrich your experience. The Mwani Center in nearby Paje is a local seaweed farming cooperative that can arrange tours of their seaweed farms at low tide and have a shop selling innovative health and wellness products and is well worth a visit.