BEST BEACHES IN ZANZIBAR
Zanzibar is well known for its amazing beaches, considered by many to be the best in Africa. The popular Kendwa Beach on Zanzibar's northwest coast was recently voted the best beach in Africa and the 4th best beach in the entire world. High praise indeed which we feel is entirely justified!
Zanzibar's beaches are famous for their powdery white sand and striking turquoise waters filled with colourful coral reefs and abundant marine life. The tropical nature of Zanzibar's climate ensures most beaches are backed by tall, swaying palm trees which offer plenty of shade when needed.
While the island's beaches are a top attraction for visitors, they also play host to an important range of activities in the local economy. Fisherman dhows are a common sight, seaweed collectors appear at low tide and sponge farming activities all offer a unique local insight to any visitor.
Which beach is the "best beach" in Zanzibar largely comes down to personal preference and what activities you have planned for your holiday.
There are over 25 well known beaches around the island and many more smaller stretches worth exploring if you are adventurous. Choosing the right beach for your vacation depends largely on whether you prefer to simply sit back and relax or want to participate in snorkeling, diving, kite surfing and other water sports. For first-time visitors in particular, it is highly recommended that you check if your chosen area matches your planned activities and expectations.
In general, the beaches on the northern part of the island are busier and offer a wider range of tourism focused activities and accommodation options. The southern beaches tend to be quieter with a more laid back atmosphere. The west coast has calmer waters than the east coast and much less dramatic tidal changes.
Be aware that east coast tides will result in the ocean being a few hundred metres away from the coast during periods of low-tide. While this is great if you want to investigate tidal pools and explore, it is not ideal if all you want to do is swim and you need to walk 10 minutes to get to the water's edge!
To help make your decision a bit easier, we present our favourite beaches of Zanzibar below with detailed descriptions of the type of accommodation, facilities and activities available at each. Our list is by no means exhaustive and is in strictly geographical order starting from Stone Town where most visitors will arrive to the island and moving clockwise and north around the island.
As with most things in life, the best choice for you is a personal decision. In our opinion the best beach in Zanzibar is the one that inspires a new visitor to come to our island and experience all the natural beauty and rich cultural heritage that Zanzibar has to offer!
Nakupenda Beach
Location: Off Stone Town's west coast
Access: 15 minute boat ride from Stone Town
Best for: Amazing snorkling and day trips
Nakupenda Beach is a distinctive sandbank island renowned for its crystal-clear waters and pristine white sands. Located just off the western coast and a short 15-minute boat ride from Stone Town harbor, it serves as a tranquil escape easily accessible to all visitors.
The Swahili name "Nakupenda" translates to "I love you," reflecting the beach's captivating charm. Visitors can snorkel and explore vibrant coral reefs and enjoy a variety of delicacies and drinks provided by the local tour operators. The beach is above sea level only during low tide, making the timing of your visit crucial to experience Nakupenda's full beauty.
While the beach can become busy, an early visit allows for a more serene experience and is preferred by those wanting to capture those Instagram perfect shots without the crowds.
Read more about Nakupenda Beach.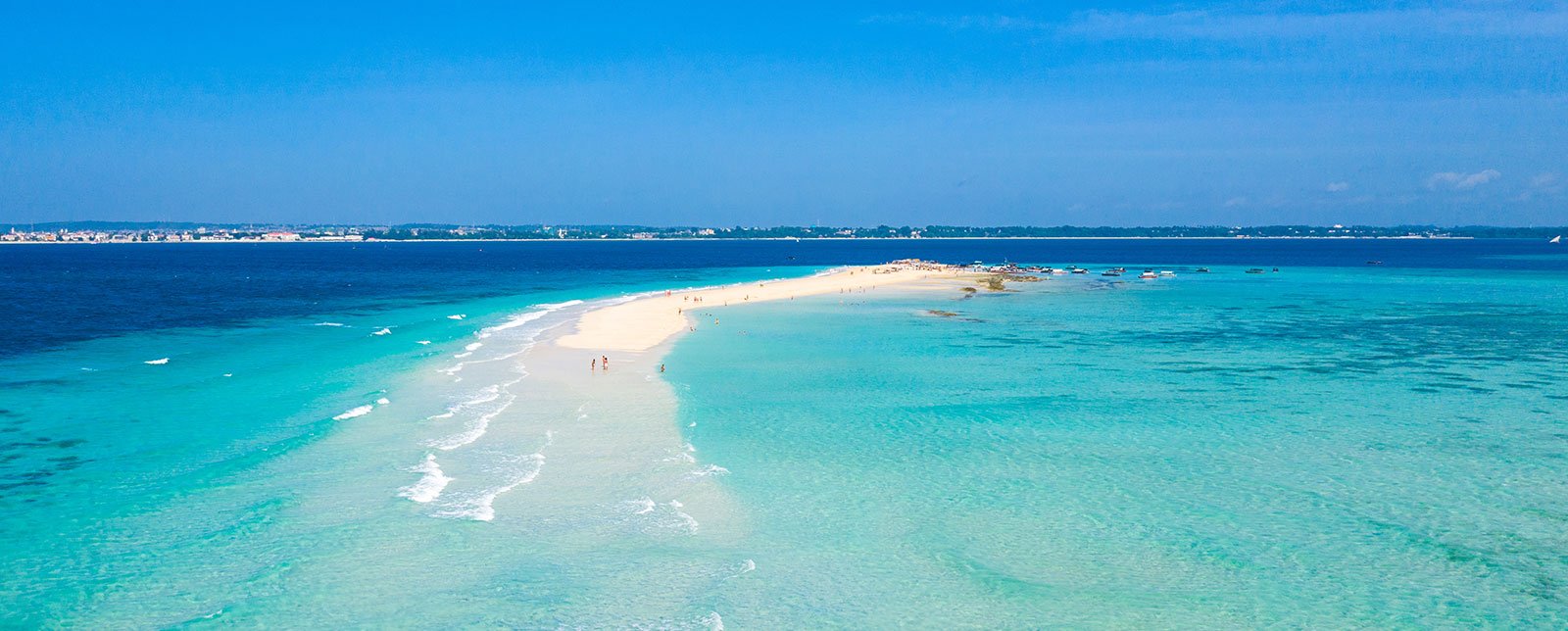 Kendwa Beach
Location: Northwest coast – 56 km from Stone Town
Access: Approximately 80 minutes by taxi or bus
Best for: All-day swimming, relaxation, diving and luxury accommodations
Kendwa Beach, a once little known hippie hideout on the northwest coast, is renowned for its pristine, white sands and clear waters, offering a tranquil retreat with a wide choice of luxurious accommodations. Unlike many other beaches on Zanzibar, Kendwa allows for uninterrupted swimming, thanks to its tide-free nature, although this calmness means it's not suitable for more adventurous water sports like kiting.
Visitors can enjoy a range of other activities however including snorkeling, scuba diving and unique to Kendwa, skydiving. The atmosphere in Kendwa strikes a harmonious balance, being more laid-back than Nungwi, yet gently bubbling with life, especially during the weekend and at full-moon parties.
Recently ranked as one of the best beaches globally, and the top in Africa, Kendwa Beach beckons travelers seeking an unparalleled beach experience coupled with indulgent relaxation.
Read more about Kendwa Beach.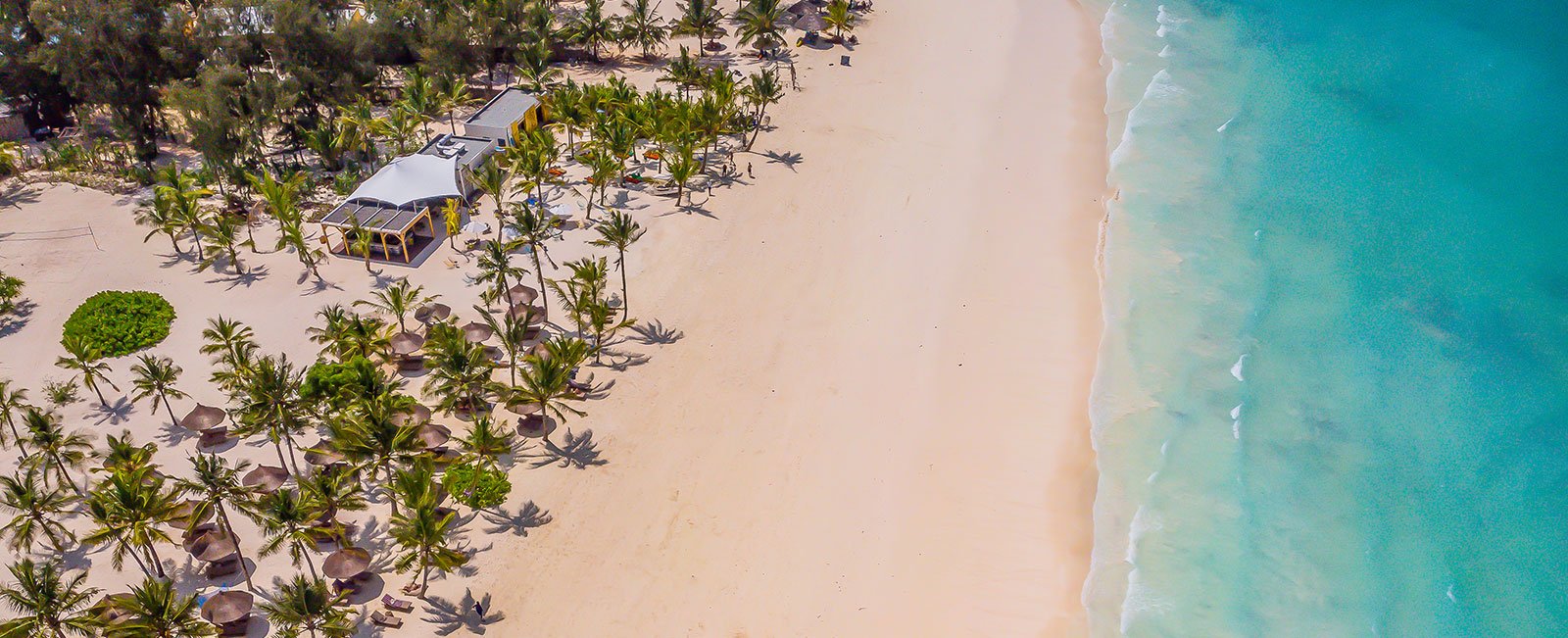 Nungwi Beach
Location: North coast – 59 km from Stone Town
Access: Approximately 80 minutes by taxi or bus
Best for: Vibrant nightlife and cultural experiences
Nungwi Beach, located on the northern tip of Zanzibar, is a lively and vibrant destination renowned for its array of hotels, restaurants and bars. The beach is recognized for its warm temperatures year-round, making it an ideal location for those looking to enjoy the sun and the sea in any season.
Nungwi is also famed for its amazing sunset views, creating magical and Instagram-worthy moments for visitors. After the sun sets, the nightlife at Nungwi is thriving, with various bars hosting parties and beachside restaurants offering a range of local and international flavors. Beyond the lively atmosphere, the northern area of Nungwi hides a largely unspoiled empty beach area for those seeking solitude.
Visitors will also find opportunities to witness and engage in dhow boat building activities at the local fisherman area, a trademark of the Indian Ocean region. The cultural richness of Nungwi, a result of the historical spice trade, is evident in the local's livelihood, religion, values, and cuisines, making it a true hodgepodge of cultures and is Zanzibar's busiest and most popular beach.
Read more about Nungwi Beach.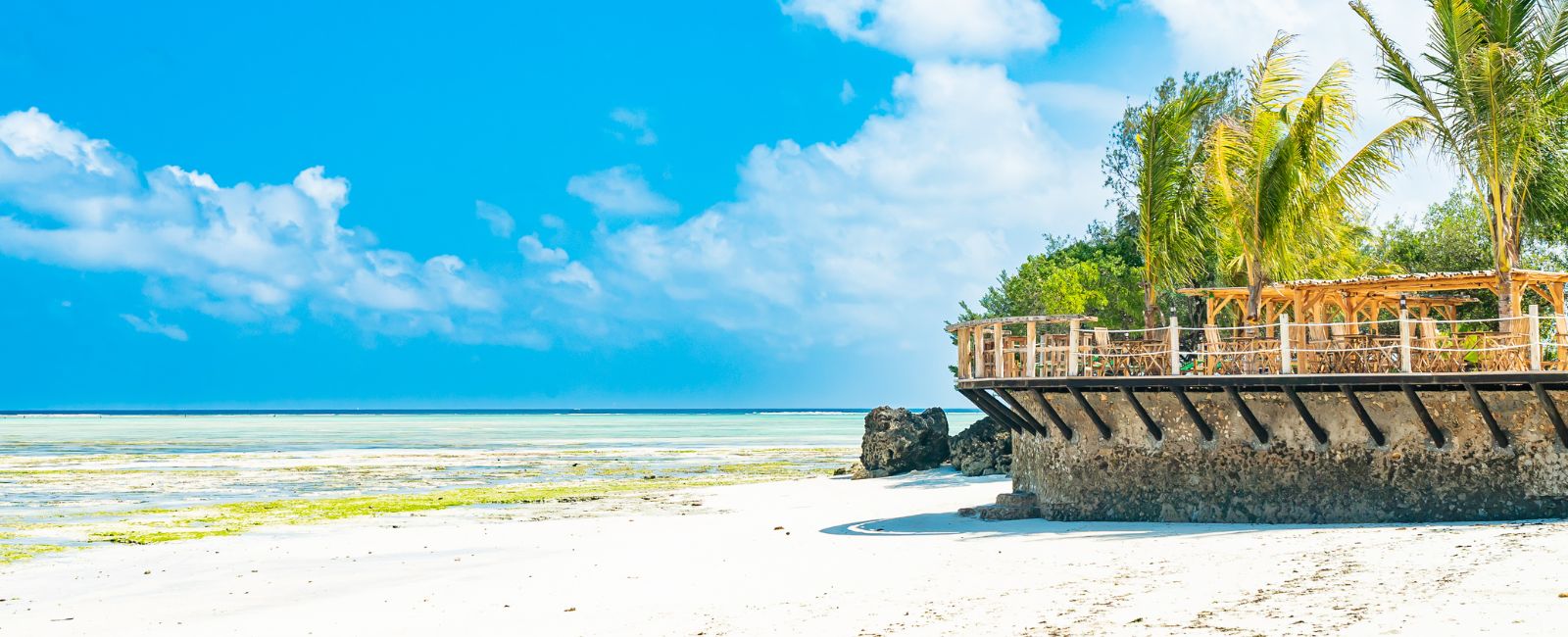 Matemwe Beach
Location: Northeast coast – 40 km from Stone Town
Access: Approximately 1 hour by taxi or bus
Best for: Serene escapes and diving trips
Matemwe Beach, nestled on the northeastern coast of Zanzibar, is a tranquil and relatively unspoiled haven offering a serene escape with its pristine shores and crystal-clear waters. Overlooking a shallow, coral-fringed lagoon, Matemwe provides breathtaking views of the Indian Ocean and is renowned for its unique landscape during low tide, revealing a coral desert that is ideal for photography and enjoying the varying shades of turquoise.
Matemwe's proximity to the famous Mnemba Atoll makes it a prime starting point for snorkeling and diving trips, allowing visitors to explore the abundant marine life in the vicinity.
The local economy is deeply intertwined with fishing and seaweed harvesting and the sight of fishermen sailing across the lagoon in their dhows at high tide is a common and picturesque scene. The area remains a significant thoroughfare for locals, and the essence of the local lifestyle, intertwined with the beauty of the unaltered beach, makes Matemwe a perfect tropical beach escape.
Read more about Matemwe Beach.
Kiwengwa Beach
Location: Northeast coast – 40 km from Stone Town
Access: Approximately 1 hour by taxi or bus
Best for: Family-friendly relaxation and tranquil beach escapes
Kiwengwa Beach, situated on the East coast of Zanzibar Island, is a paradise for those who prefer a more relaxed and tranquil vacation. The beach is known for its pristine white sand, stunning ocean views and its breathtaking sunrise, making it a picturesque location for early risers.
Activities include snorkeling at Mnemba corals, kiteboarding, scuba diving and fishing trips and the opportunity to explore the nearby Kiwengwa Pongwe Forest. The beach is ideal for families, with fewer beach vendors compared to other areas allowing for a more peaceful experience. Those seeking a serene beach escape with a touch of local culture will find Kiwengwa Beach to be a perfect choice.
Read more about Kiwengwa Beach.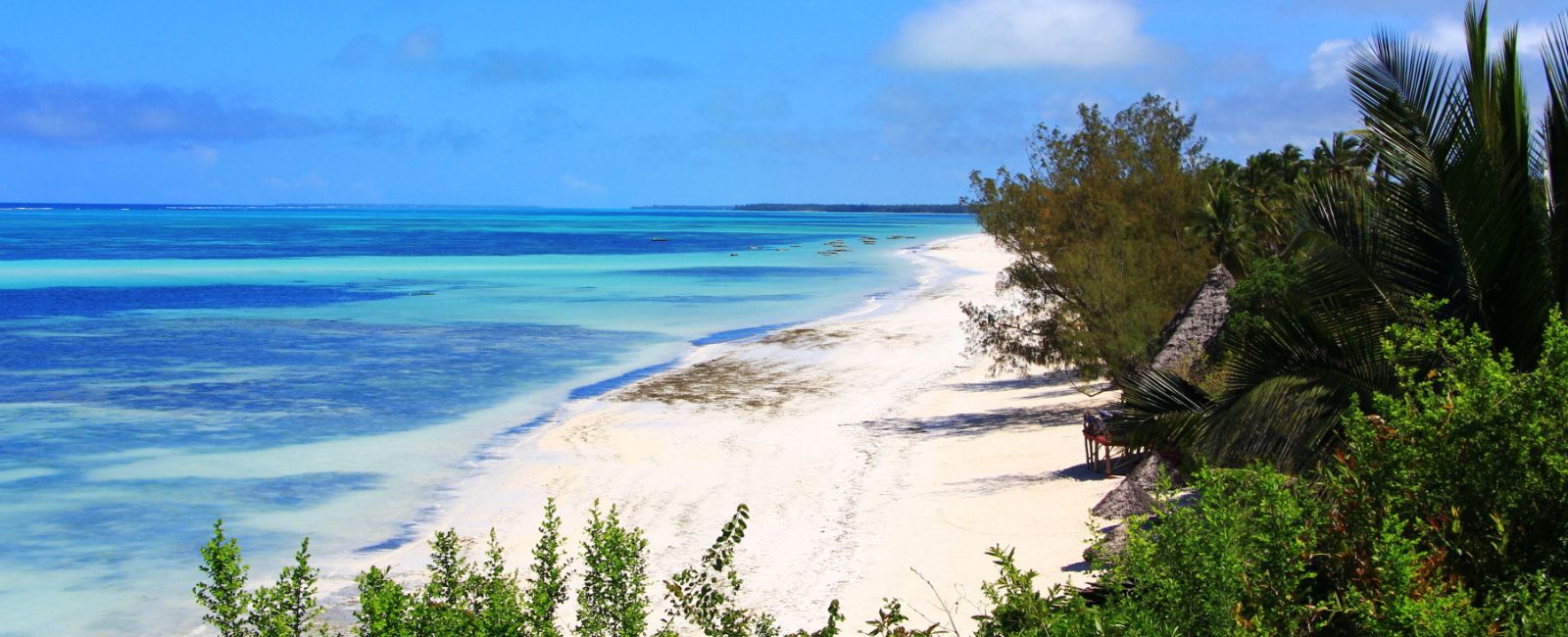 Pongwe Beach
Location: East coast – 45 km from Stone Town
Access: Approximately 1 hour by taxi or bus
Best for: Honeymoons and intimate relaxation
Pongwe Beach is located between Kiwengwa and Uroa on the East coast of Zanzibar Island and is known for its breathtaking morning sunrises and the tranquil atmosphere it offers. The beach is much less crowded compared to other popular beaches in Zanzibar allowing visitors to enjoy the serene environment and the natural beauty of the surroundings.
The nearby Pongwe Bay Resort is a popular choice for honeymooners with its lush gardens, rooms with ocean views and a range of activities and amenities including an outdoor pool, spa and a private beach area.
Read more about Pongwe Beach.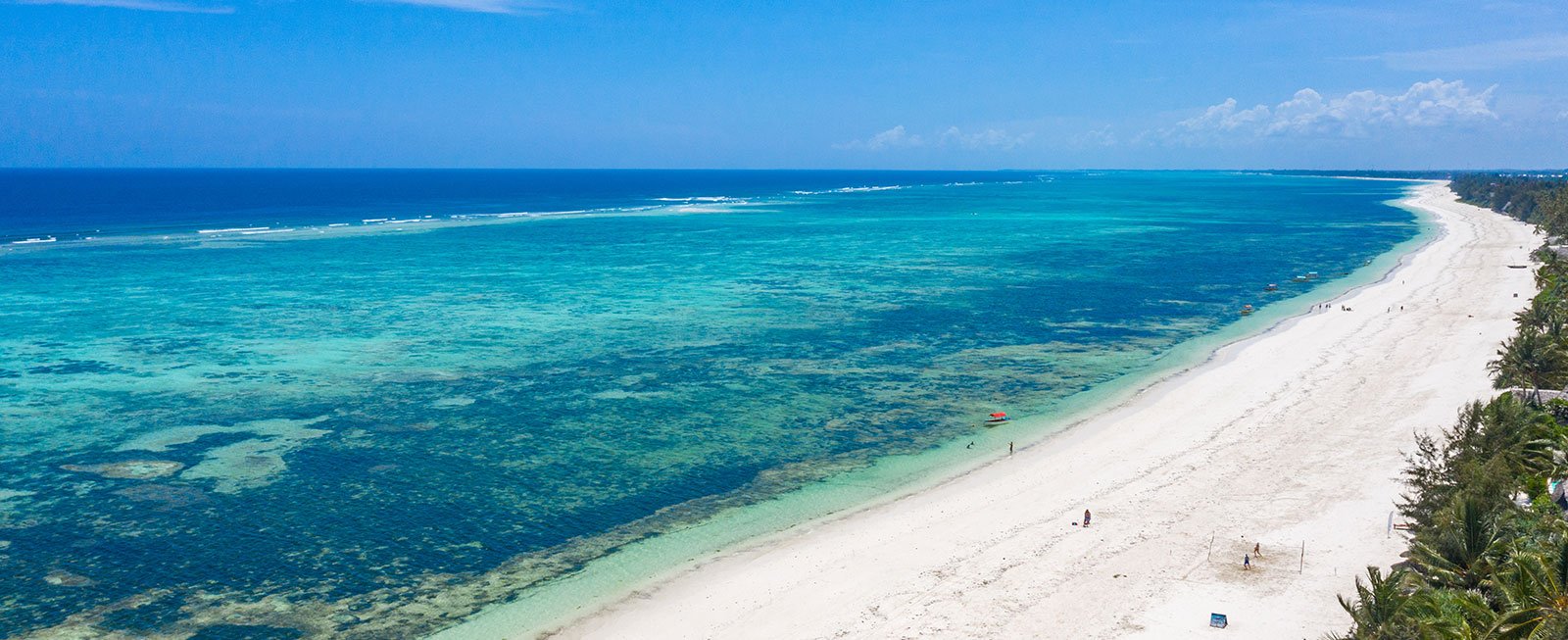 Pingwe, Dongwe and Bwejju Beaches
Location: Central east coast – 60 km from Stone Town
Access: Approximately 90 minutes by taxi or bus
Best for: Tranquil retreats and culinary experiences
The serene beaches of Pingwe, Dongwe, and Bwejuu on Zanzibar's southeastern coast are a haven for those seeking a tranquil and disconnected retreat. Bwejuu, with its serene and laid-back village vibe, offers moments of solitude and is conveniently located close to popular tourist spots.
Dongwe, lined with gorgeous palm trees and cozy beach huts, provides opportunities for various water activities and exploration of small marine animals during low tide.
Pingwe, close to a spice farm growing ginger, chilli, vanilla, and lemongrass is renowned for its culinary experiences, especially at the famous Rock restaurant. The area is less developed, allowing visitors to truly embrace the Hakuna Matata atmosphere and experience the local culture and lifestyle in a more intimate manner.
Read more about Bwejuu Beach, Dongwe Beach and Pingwe Beach.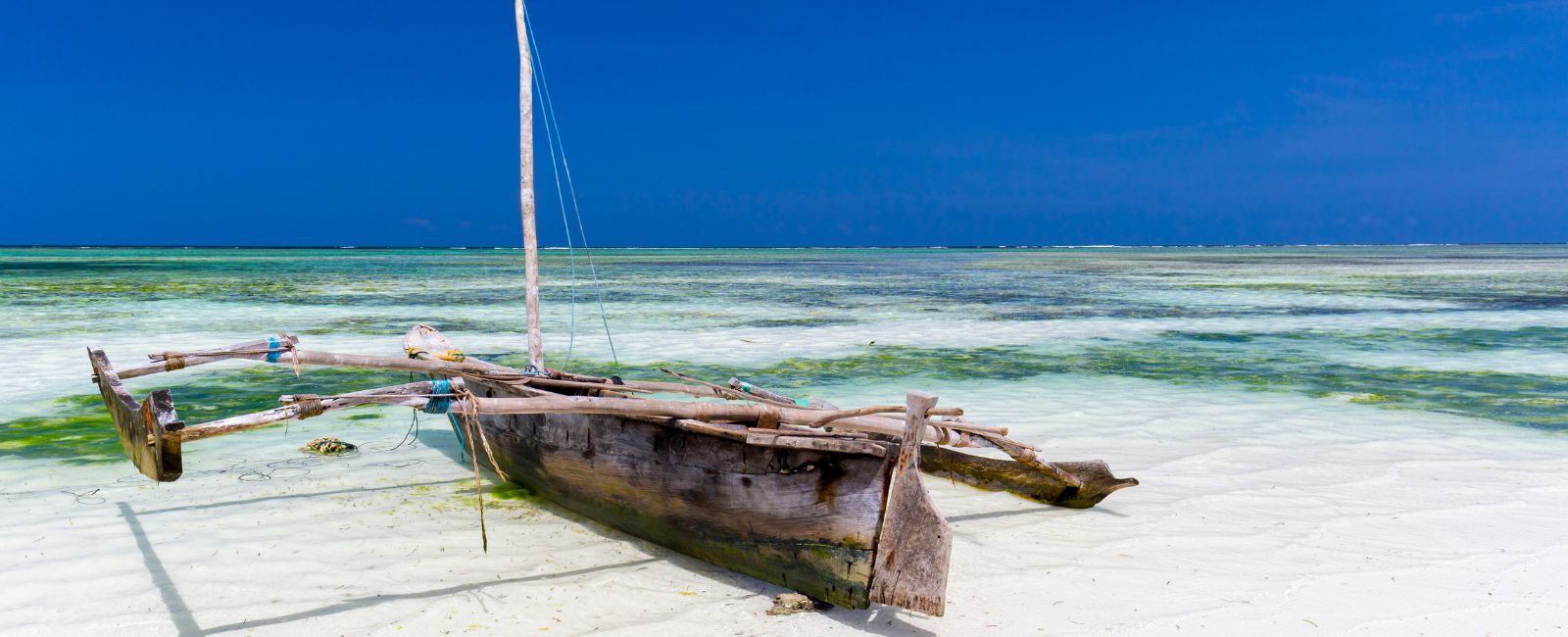 Paje Beach
Location: Southeast coast – 50 km from Stone Town
Access: Approximately 75 minutes by taxi or bus
Best for: Kitesurfing enthusiasts and budget travellers
Paje Beach, located on Zanzibar's serene east coast, is a secluded paradise known for its pristine white sands, clear, warm waters, and vibrant culinary scene.
A haven for water sports enthusiasts, Paje is renowned for its excellent scuba diving and kitesurfing opportunities, making it a must-visit for adventure seekers.
The beach is bordered by a traditional village offering a range of accommodations and eateries. The tranquil ambiance of Paje makes it a preferred choice for those seeking a peaceful and less crowded beach retreat. Visitors are advised to observe conservative dress standards when exploring the village and to support the local community by purchasing locally made products.
Read more about Paje Beach.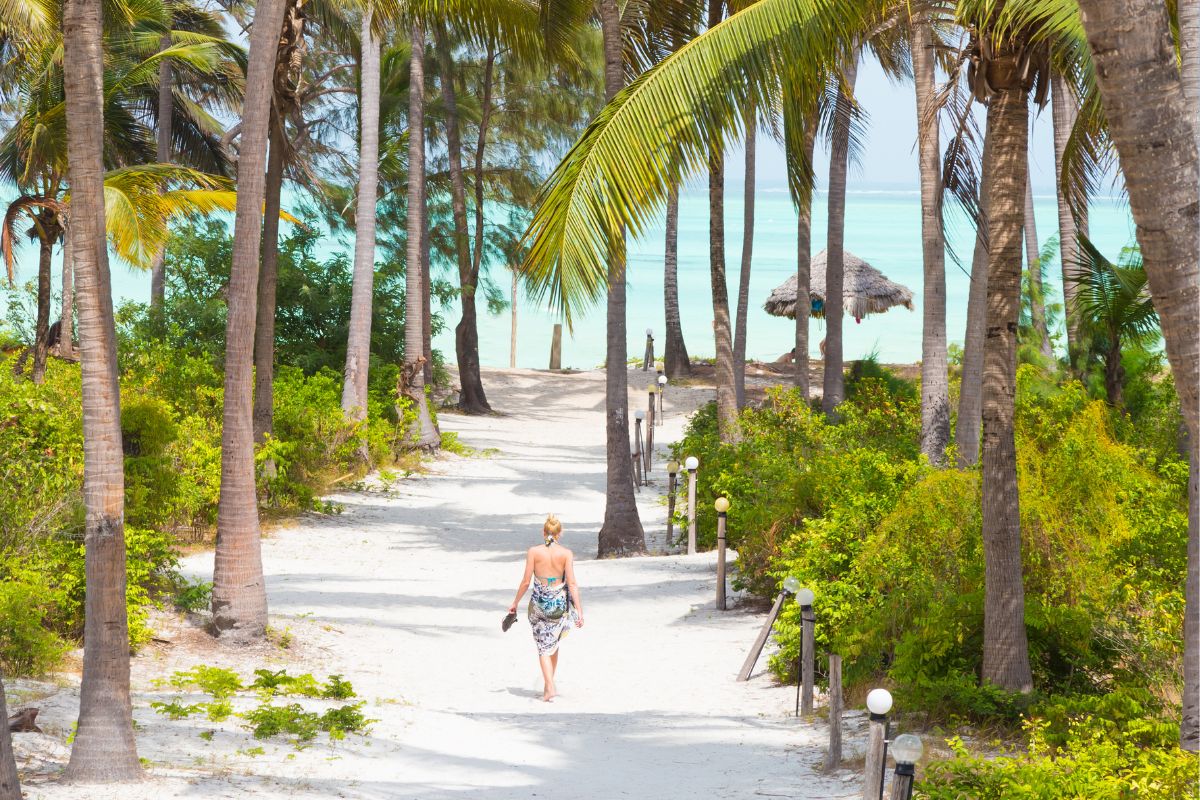 Jambiani Beach
Location: Southeast coast – 56 km from Stone Town
Access: Approximately 80 minutes by taxi or bus
Best for: Cultural immersion and scenic relaxation
Jambiani Beach, located on the southeast coast of Zanzibar, is a picturesque and culturally rich holiday destination. It is known for its soft white sand beaches and unique dramatic coral rock formations, offering a serene and idyllic backdrop for a low-key beach getaway.
The beach is less touristic compared to its neighbor, Paje, providing a more relaxed and authentic experience. Visitors can enjoy the local Zanzibari coastal cuisine and explore the village center of Jambiani, where the local life is vibrant, and the community is welcoming. Jambiani is a place where one can experience pole pole (slowly, slowly) life, soak up the surroundings, and immerse in the friendly and amazing local culture.
The beachfront is lined with wonderful hotels and lodges offering comfortable stays with breathtaking sea views. The Jetty Platform Bar at Spice Island Hotel & Resort is highlighted as a top spot for drinks owing to its iconic overwater location, providing a different perspective and the best sunset view in town. Additionally, Jambiani Beach is in close proximity to Kuza Cave, one of the most stunning crystal clear swimming caves in East Africa, offering yet another layer to your adventure.
Read more about Jambiani Beach.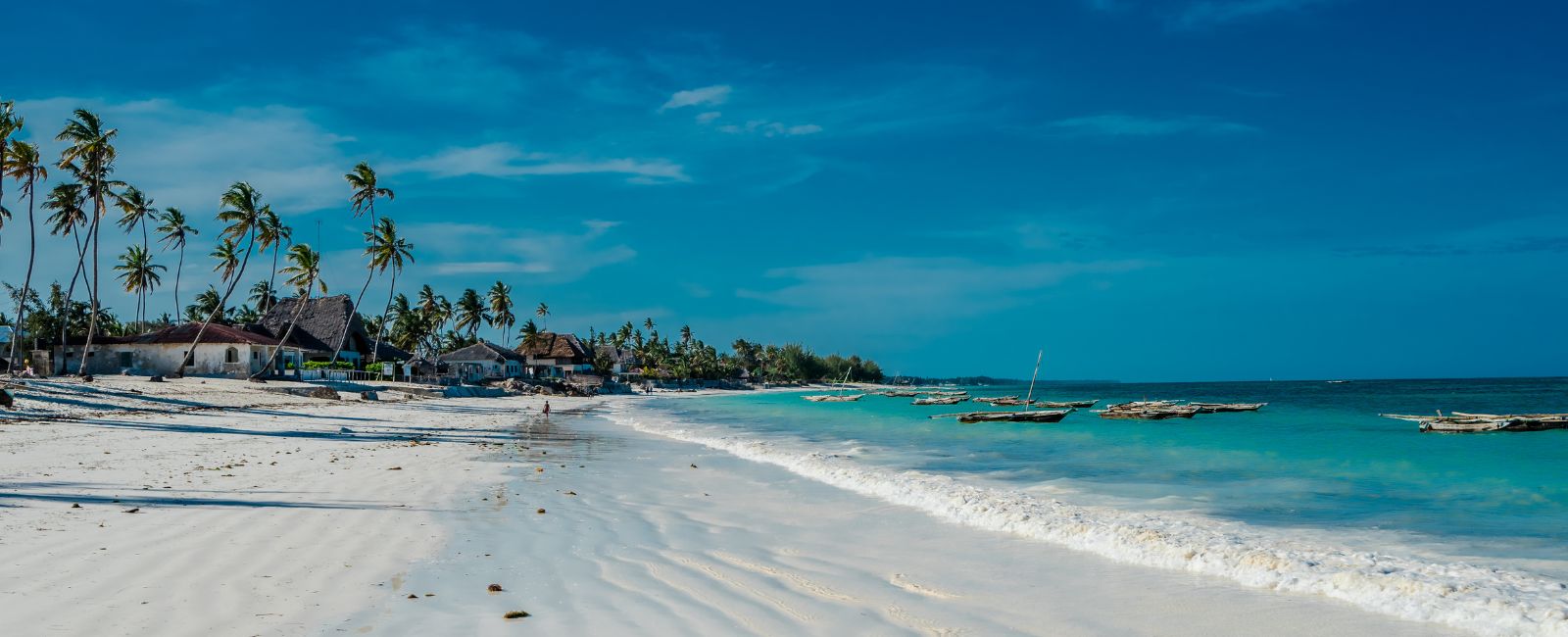 Kizimkazi Beach
Location: South coast – 60 km from Stone Town
Access: Access: Approximately 1 hour by taxi or bus
Best for: Dolphin sightings and star gazing
Kizimkazi Beach, situated in the southern region of Zanzibar, is a tranquil and secluded destination renowned for its dolphin sightings and dhow boat tours. This beach is not typically a beach destination due to the significant differences between high and low tides, but it offers a unique and serene experience for those looking to escape the tourist crowds and immerse themselves in nature and local culture.
The area is less commercialized, with fewer hotels, allowing visitors to experience the untouched beauty of Zanzibar and the hakuna matata mantra.
The unique landscape of Kizimkazi, characterized by dramatic rocks and cliffs, offers a different perspective of Zanzibar's beauty. The region's seclusion makes it a perfect environment for star gazing due to the absence of light pollution.
Read more about Kizimkazi Beach.