Dongwe Beach
Location: Central east coast – 59 km from Stone Town
Access: Approximately 80 minutes by taxi or bus
Great for: Luxury accommodation and the famous Blue Lagoon
Popular (semi) budget hotels: Filao Beach by Sansi, Evergreen Bungalows, Sagando Bungalows
Best luxury hotels: Zawadi Hotel, Baraza Resort, Breezes Beach Club
Nestled along Zanzibar's south-eastern coast, Dongwe Beach is a delightful blend of serenity and activity. With its panoramic sea views and radiant white sands, it's no wonder that Dongwe has become a favorite among both laid-back sunbathers and water sports enthusiasts.
Location & Accessibility
Dongwe Beach is located approximately 53 kilometers from Stone Town. Travelers can expect a journey of a little over an hour by car. While taxis remain a popular choice, adventurous souls might opt for the "dala-dala," Zanzibar's signature minibus, for a more local travel experience.
Natural Beauty
Dongwe's scenic coastline boasts white sandy shores punctuated with tall, wispy palm trees. The coral reefs just off the coast form an underwater maze, playing host to a variety of marine species – a treat for snorkelers and divers alike. The Blue Lagoon, a well preserved off-shore coral reef despite the slightly misleading name, is just 2 kilometers north of Dongwe on the way towards Pingwe Beach and is a popular tourist attraction. Visits can be arranged by boat from many businesses and hotels or the adventurous could consider swimming out themselves. Be careful of the currents which can be strong at times depending on the tides.
Water Sports & Activities
Dongwe comes alive with a plethora of water sports. From kite surfing, owing to the favorable winds, to traditional dhow sailing experiences, the beach caters to a spectrum of adventure appetites. The clear waters also make it a prime spot for snorkeling and diving, revealing a vibrant marine world beneath. Like all east coast beaches in Zanzibar, the low tide effect is strongly felt and the water recedes a good distance during low tide times. Be sure to plan your swimming accordingly.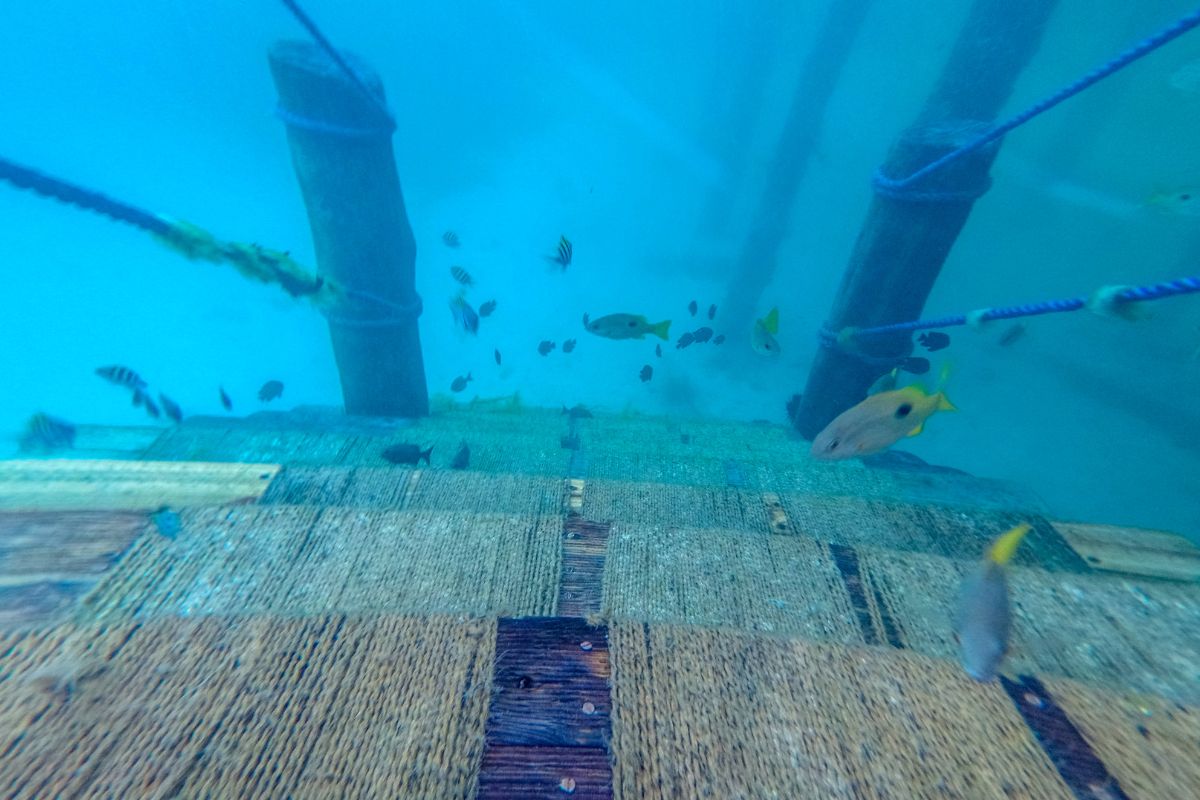 Accommodation
Accommodation in Dongwe trends towards the upscale end of the market and true budget options are few and far between. Most establishments are directly on or next to the beach, ensuring guests are never too far from the mesmerizing ocean views. For budget conscious travellers, Bwejuu and Paje beaches just a couple of kilometers further south offer a much wider choice of accommodation options.
Restaurants and Nightlife
Dongwe's culinary landscape serves a delectable mix of traditional Swahili flavors and international dishes. Fresh seafood, sourced locally dominates most menus. As the day transitions into night, Dongwe offers a relaxed nightlife atmosphere, perfect for sipping on cocktails as you take in the rhythms of local live bands.
Most hotels have restaurants for guests, some of which are also available to non guests. The emblematic Dongwe Beach Restaurant which is housed in a series of pavilions at the end of a wooden walkway that leads from the shore into the sea is a popular, if pricey, choice. It is run by the hotel next to the walkway and while open to non guests can be somewhat zealously patrolled by staff. Pre booking at the hotel is recommended. Fisher's Restaurant is a more budget friendly option on the beach, family run and known for its seafood and friendly service.
Cultural Experience
Experience the rich tapestry of Zanzibari culture in Dongwe. Traditional dance performances on the beach and local markets give visitors an authentic taste of island life. Engage with locals, partake in a Swahili cooking class, or just stroll through the village to immerse yourself in the daily rhythms of Dongwe.