Matemwe Beach
Location: Northeast coast – 40 km from Stone Town
Access: Approximately 1 hour by taxi or bus
Great for: Serene escapes and diving trips
Popular budget hotels: Salama & Mbuyuni Bungalows, Mchanga Zanzibar, Kiganja Retreat Zanzibar
Best luxury hotels: Matemwe Lodge, Zanzibar Sunrise, Emerald Zanzibar, Zanzibar Pearl
Matemwe Beach, nestled on the northeastern coast of Zanzibar, is a serene and picturesque locale known for its relaxed atmosphere and magnificent coral reefs. Matemwe is the ideal destination for travelers seeking a quieter, more laid-back experience compared to the bustling vibes of Nungwi or Kendwa. The beach boasts powdery, white sand and clear, azure waters, attracting a diverse range of marine life and making it a snorkeler's and diver's dream.
Matemwe Beach experiences noticeable tides, offering an ever-changing landscape. At low tide, the water recedes to reveal tidal pools and an expansive seabed, excellent for exploring marine life up close. At high tide, the ocean comes to life, making it ideal for swimming and water sports.
Location & Accessibility
Matemwe Beach is around 53 kilometers from Stone Town, Zanzibar's capital. The drive takes approximately 1.5 hours, and while public transport options are available, they are less frequent, making taxis and car rentals more practical choices for travelers.
Natural Beauty
Matemwe offers a pristine, natural environment. The beach is framed by lush palm trees and local vegetation. The nearby Mnemba Atoll is a marine reserve known for its rich biodiversity, including dolphins, turtles, and a myriad of fish species. The contrast between the white sand and the turquoise water creates a captivating, photogenic scene that are picture perfect for Instagram.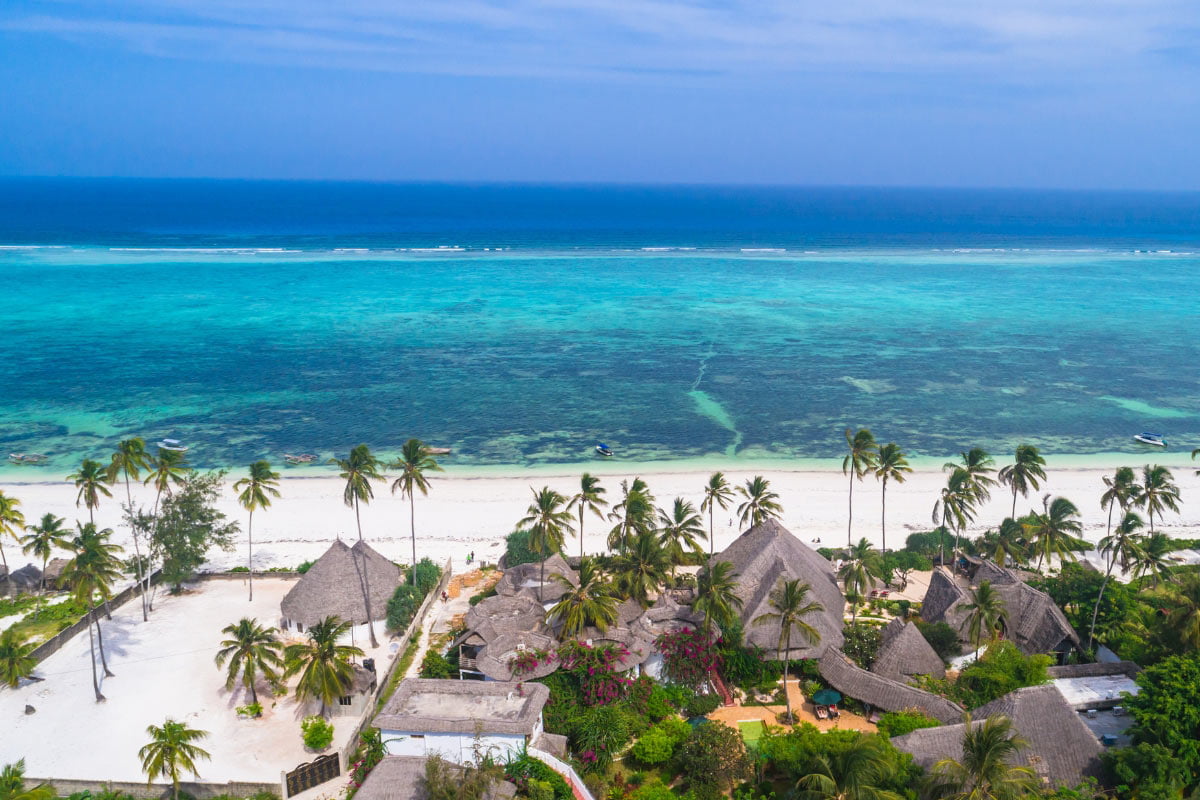 Water Sports & Activities
While not as bustling as Nungwi, Matemwe offers a variety of water-based activities, primarily focusing on snorkeling and diving. The nearby Mnemba Atoll is a renowned diving spot featuring vibrant coral gardens and diverse marine life. Kayaking and paddleboarding are also popular activities, particularly during high tide when the waters are calmer.
Accommodation
Matemwe caters to a range of budgets, from upscale resorts like the Matemwe Lodge to mid-range and budget-friendly options. Most resorts and hotels offer ocean-view rooms or bungalows, providing a secluded, intimate setting. Guest amenities often include private plunge pools, spa services, and fine dining options, emphasizing the beach's romantic, tranquil atmosphere.
Restaurants and Nightlife
Matemwe offers a range of dining options, albeit fewer than in busier areas. Many of the resorts have their own restaurants, often open to non-residents, offering a range of international and local cuisines. Fresh seafood, caught by local fishermen, is a staple on most menus. As for nightlife, Matemwe is more subdued, focusing on intimate beach bonfires, live music, and stargazing rather than lively bars and dance venues.
Cultural Experience
While Matemwe is primarily a beach destination, visitors can engage in local culture by visiting nearby fishing villages. Tours often include the chance to observe traditional fishing techniques and daily life in a Zanzibari village. Some hotels and resorts also offer cooking classes featuring Swahili cuisine, providing a more interactive cultural experience.