Nungwi Mnarani Aquarium
Mnarani, meaning, place of the lighthouse' in Swahili, is located at the northern tip of Zanzibar Island in the small village of Nungwi near the lighthouse that marks this landmark. The pond is actually a large, natural tidal pool in the coral rock behind the beach. It was originally set up to rehabilitate and study marine turtles that had been caught in fishing nets, and the project developed to ensure that local baby turtles were also protected.
Mnarani Aquarium
Marine Turtle Conservation Sanctuary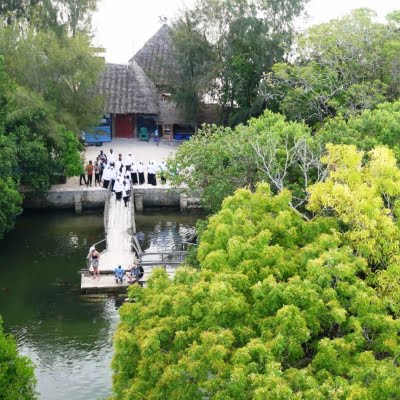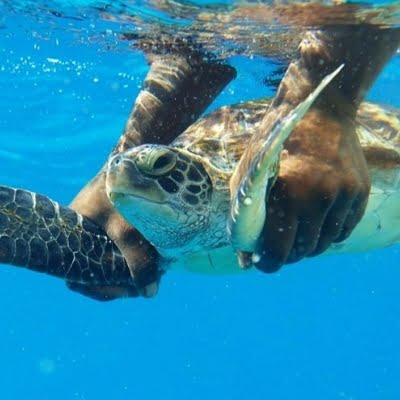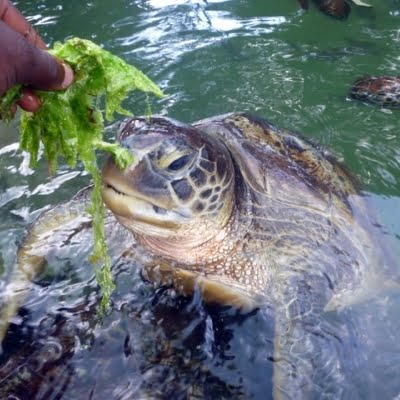 The Sea Turtle lagoon is a natural lagoon separated from the Indian Ocean by a few meters of old reef rocks… but the tide within the lagoon is a clear indication that the connection with the Ocean is open.
A wooden pier was built on one half of the lagoon, allowing a better access to the Sea Turtles, offering a second information pavilion as well as a small interaction platform.
The center also offers several smaller pools to keep the baby and juvenile Sea Turtles, to treat injured or sick Sea Turtles, as well as some other large vivariums to keep other indigenous wildlife.
"Trash to Treasures" creative recycling/up cycling project
In Zanzibar, waste is a problem of growing concern, as there are no functioning waste management systems in place. Since June 2016, The aquarium has been working with World Unite under the direction of the team member Lisa by running several activities in Nungwi that have the aim to raise awareness amongst the local population about the waste problem and to support them in the creation of useful items for everyday life from recycled materials, which might even generate a small additional income to them.
Volunteers are creating useful and decorative everyday items from waste materials. At the marine turtle bungalow accommodation you will find some furniture and decorative objects which were made by volunteers.
They include the use of "bottle cutters", which allow the cutting of strings from plastic bottles that can then be used to weave curtains, nets for chairs and many other things. Lisa and the volunteers are also making "ubuntublox": Soft plastic such as plastic bags and foil material are pressed in a self-made compactor to form blocks that can be used to build inexpensive and resource saving walls.
This made the expansion of the lagoon as an extra of the working tour guided by our experienced local guides.

Enjoy Zanzibar with Zuri
The Zuri Zanzibar is perfect for anyone that is wanting a truly unique experience as this beautiful resort offers everything that you could need for a dream vacation. If you are looking for something that is off the beaten African tracks, a place that allows you to feel absolute peace and tranquility, then the Zuri Zanzibar is just right for you.